Who is really ignoring LKY's wishes?
But first, the spat between Lee Wei Ling and Devandas Nair (example https://www.facebook.com/photo.php?fbid=10154269480746844&set=a.10150263346906844.370932.581221843&type=3&theater) is starting to sound like
Tweedledum and TweedledeeAgreed to have a battle;
For Tweedledum said Tweedledee
Had spoiled his nice new rattle.
And how did that end?
Just then flew down a monstrous crow,
As black as a tar-barrel;
Which frightened both the heroes so,
They quite forgot their quarrel.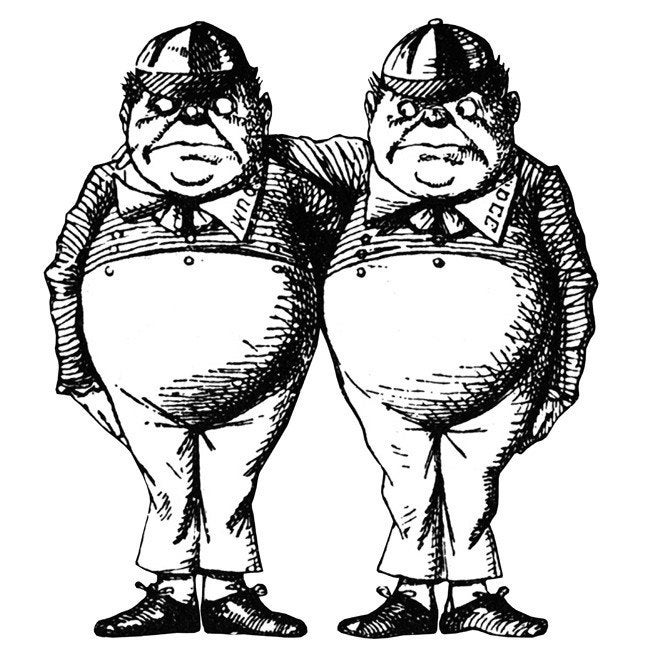 Juz remember: White Horse fights White Horse. Two very privileged kids (who should know better) are rowing pub;ocly about who is upholding LKY's wishes and who is dissing his wishes.
One White Horse (actually a mare) thinks she is the keeper of LKY's flame (Funny that she never fulfilled his wish for her: that she marry and have a family.). The other White Horse (Gelding really?) is a paid-up member of the administration that Harry built and which turned on his dad.
—————————————————————————–
Gelding: a male horse that has had its testicles removed
———————————————————————
I'm still thinking about the rights and wrongs of both sides. But here are the two major themes that I'm meditating on:
— By claiming "Pa" was not anti free speech "For the cynics who complain that Pa restricted freedom of speech, you are wrong. If your statement is accurate, fine. If it is slander, l will have to defend my reputation in court.", isn't she guilty of building a monument to him? A false one with feet of clay?
— And isn't the PM and the PAP really doing what "Pa" wanted: trying to ensure PAP hegemony forever and a day by propagating stuff like Follow the Rainbow? I mean he wrote self-serving books too didn't he? 
I'll end with her failure to understand the regime that Harry built:
My Facebook avatar asked, "She should ask herself why ST "censorsed" her? Fear of the administration where her dad formed and was a leading figure for many a year? She says "For the cynics who complain that Pa restricted freedom of speech, you are wrong." sounds like something from Evelyn Waugh's black comedy writings."
He got two "Likes" from two ex-SPH editors who are pretty decent fellows.